Engage Through Music
Music children love. Music education schools need.
Mr. Page brings more than 30 years of experience in music education to your school reaching students of all socio-economic and cultural backgrounds. Drawing on his experience as a public school educator, Rodney engages students while performing varied genres of music. Most importantly students are learning while having fun. Mr. Page's "In" formances and assemblies are high energy and interactive. The impact he has on students is life changing!
Music you love. Musical services for your every need.
Why wouldn't you want your music in the hands of an accomplished artist? Mr. Page was accepted as a conducting fellow at Julliard, was the Performing DJ for the Detroit Pistons Basketball Team (2012-2013), and a Fulbright Recipient (2002). Additionally, he has performed internationally in China, Europe, and Japan. Rodney has performed throughout the United States including the General Motors Black-History Gala, Showtime at the Apollo, and the Detroit Pistons 'Bad Boy' 25 Year Anniversary.
What Customers Say
He has the gift for the impromptu, how he rolls with the punches and stays ahead of his audience. Nothing throws him, he's captivating.
He's so flexible, just be professional on the fly. He's just so agile. I got complemented about hiring him.
Absolutely worth every penny and you wouldn't regret it; and if you're the person that gets the credit for hiring him you will look like a hero… So true.
Call him! I will give you his email address, lol!
The kids are always surprised; they love the free-styling and the improvising on the violin. I love it, I just love it.
(At the) Rehearsal he took time to making sure he got name pronunciations right, and a lot of other little things. He was just amazing.
The kids were in awe… And so was I
(At the) Rehearsal he took time to make sure he got name pronunciations right, and a lot of other little things. He was just amazing.
He was attentive to the people to get them dancing.
I feel like he really tries to connect specifically with the groups he's working with. The more he knows about the program the more he tries to incorporate what he knows about the program and the kids.
I had no idea he could beat box!
He's professional, reliable, blessed, cool, nice, talented, and surprising!
He works really hard to make sure the audience feels comfortable around him and makes a real connection with them.
The kids were having fun, and they were engaged. If the kids are having fun then that's fun for me. And I've had experience in hiring some duds so I know when the kids are having fun and when there not. From the minute he started talking and playing I knew they were fully engaged…
He did a freestyle rap… that was centered on the people and the event…Very personal touch.
Look you don't even need another option, just see if this guy is available and book him, don't worry about his rate; just raise the money and book him.
When he was playing the violin he came out (into the crowd)… whole crowd engaged with him... The whole room was watching Rodney! It was like a concert!
The kids wouldn't stop talking about him. The kids blow up in excitement when he was mentioned. When I announced that Rodney was coming back they were thrilled…The kids look forward to having him every single year.
Communication between us was great. I always felt in the loop.
I'm impressed with his versatility as a human being...
He keeps the children of all backgrounds and ethnicities engaged.
Education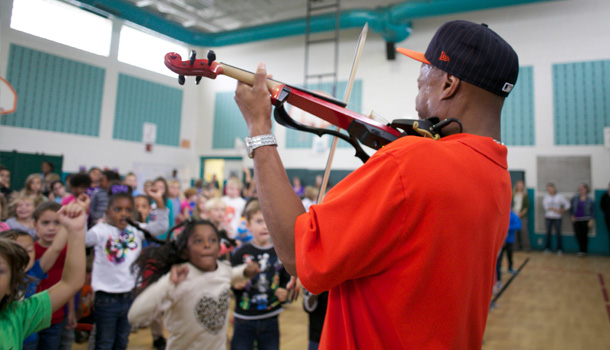 Give your children an unforgettable experience!
Looking for an engaging assembly that reaches students K-12? Maybe you are in need of a guest conductor for your band or orchestra? Rodney Page is the only option for providing your students an informative, educational music experience that is exciting and fun!
Learn more about the educational services we offer.
Entertainment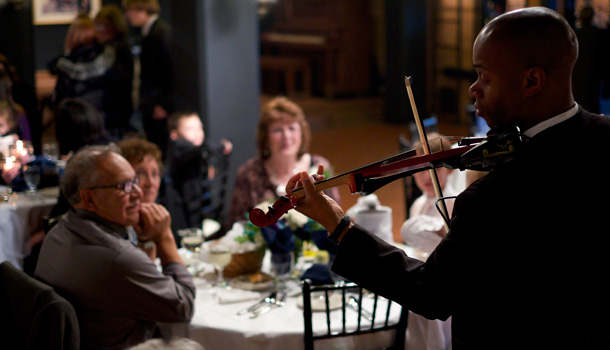 Accomplished. Professional. Affordable.
From weddings to social events (parties, corporate events, birthdays), Rodney Page can bring your music to life! Whether it is violin, piano, or DJ/Emcee services he brings love, joy, and a good time to any occasion! Mr. Page is also available for spiritual events, including church and worship services.
Learn more about the entertainment services we offer.
---
---
---
CONTACT RODNEY PAGE RIGHT NOW
Whether you are looking for a clinician, a speaker/performer for an assembly, or a memorable event, the Full Engagement Experience is the premier choice!
Contact