Give your children an unforgettable experience!
Your kids can expect a high energy, engaging experience in an assembly with Mr. Page.
Rodney uses music during his assemblies to reinforce topics students deal with on a daily basis ranging from bullying to self-esteem. By encouraging the students to always be their best Mr. Page creates a nurturing and positive climate where students of all ages feel comfortable. Students are engaged during the entire assembly and learn skills they can apply throughout their lives.
Students receive a variety of musical interpretation in clinics.
Your students will work with a professional to polish their ensemble music and achieve the highest level of musicianship. Rodney will challenge students to play passionately while developing ensemble and listening skills in band or orchestra. Ensemble etiquette as well as music theory and history are discussed and practiced during music clinics. Your students will also have the opportunity to experiment with alternative styles including jazz, hip hop, and folk music.
Rodney is authentic and real; and the kids know it.
The learning experience your students will have with Mr. Page remains with them long after he leaves. Rodney believes to be successful in life you must have passion, focus and determination. Everyone is passionate about something. It is important that their passion is supported while seizing opportunities to expose them to new ideas. Rodney thoroughly believes that energy and passion can be transferred from one person to another and that is accomplished with his powerful message.
Rodney works with individual children as well as entire schools.
---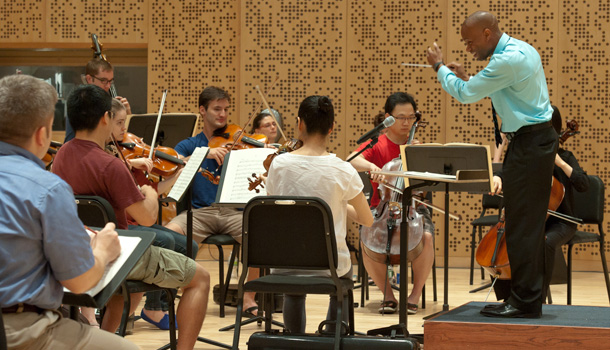 Individual lessons
As a qualified and experienced educator, Mr. Page can deliver advanced expertise that earned him a Conducting Fellowship at The Julliard School of Music and a position as an instructor at Blue Lake Fine Arts Camp. Rodney has taught individual lessons to hundreds of students and provides them with intimate instruction, mentoring, and personal growth that is of superior quality. Students learn while maximizing their appreciation for music.
Scholastic Events
Assemblies, "in-formances" and other events at schools and institutions are a great way to energize your kids while giving them access to music education.  Music is a vastly overlooked yet important part of childrens' education. It blends math, literature, culture, and history together in a way that kids can actually feel.
---
Motivational speaking
Are you motivated? If you aren't you will be! Rodney brings energy to groups of all sizes and will present topics to your students that are important to you. Each of the motivational speaking assemblies/sessions is personalized to your needs and includes music to make it fun for your students!
Some of the school districts Rodney has worked with:
---
Kentwood
Traverse City
Detroit Public
Okemos
Muskegon Public
Cadillac
Byron Center
Tecumseh
Walled Lake
Flint Public
Jenison
St. Clair Shores Public
East Lansing
Jackson Public
Jonesboro, GA Public
St. Johns
Grand Rapids Public
Albion
Saline
Caledonia
Hudsonville
Southfield Public
Lowell
Lansing Public